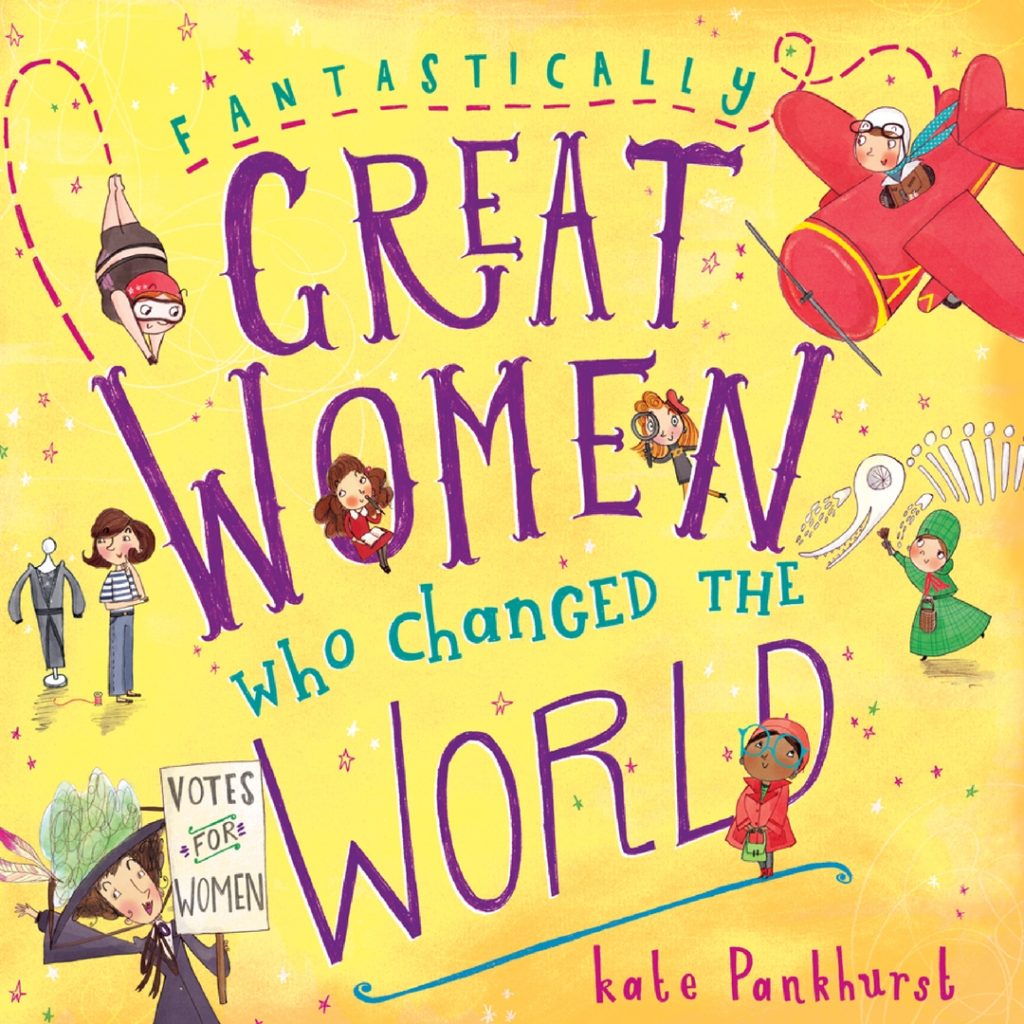 Pleasure to interview Kate Pankhurst, author and illustrator of a range of books including the amazing Fantastically Great Women Who Changed The World.
How Did You Get Into Being An Author/Illustrator?
Drawing was my thing when I was a child.  I used to make comics and enter drawing competitions.  I ended up doing illustration at university and whilst I was there, one of my tutors was a children's book illustrator and she got me interested in that field.  It was one of those job that I didn't realise you could do – a children's book illustrator.
I became quite interested.  At the time, Lauren Child was becoming quite big (author of Charlie and Lola books).  The way her books were laid out and designed was really different.
I looked at them and thought that's what I want to do.  I entered a competition at university called the Macmillan Prize and I came 2nd in that and got my foot in my door.
I started Illustrating other people's books as I was so young.  It took me a few years to find my feet as I went straight from university into freelance work.
Why Did You Decide To Go Out On Your Own?
As an illustrator, it's your only option really as there aren't many in-house illustrators anywhere.  People come to you and hire you.  You have to work for a number of different clients.  I had always done that so didn't question it.  It wasn't a massive decision as this was all I'd ever done.  I was used to the 'I'm not going to get paid this month' feeling.
Then You Decided To Become An Author?
I had illustrated books that were first chapter books for children.  There always ended up being more than one book – in a series you have 4 to 8 books.  I got to know the characters really well, reading them with a view to illustrating them and picking out details from the text.  I got a sense of how these books were structured and how they work.
I had always written and had pitched a few ideas for my own picture books.  Then I'd done a cover design about a girl called Mariella Mystery.  It was through showing that cover around as an illustrator that a few people started to ask who this character was and what she did.
Because I'd been an illustrator I didn't think I could write a book like that.  Then when I sat down to do it, I realised I'd done a lot of ground work. I had my character, Mariella Mystery, but didn't have the confidence to write a series of books like this.  I think it took someone else to say to me, 'why don't you have a go'.
I had always written; it was something I'd always wanted to do.  Mariella Mystery was my first published series.
How Did That Feel Like – Getting Published?
I went for a series of meetings in London with my agent.  He was very much like, 'yeah you can do this', and I went to these meetings and there were a few publishers interested in it.  Yeah, it was amazing; we had more than one offer.
I do illustrate for other writers.  In terms of creative satisfaction, I really like writing the books as well.
Did You Feel A 'Legacy' Around Your Surname That You Had To Live Up To?
Because of the nature of Fantastically Great Women, with Emmeline Pankhurst in it, I feel a slight fraud!  I'm not a direct descendant of hers – it's the same family.  She is my great, great granddad's brother's wife – so I've been told by family relatives.
If I was more closely related to her I would probably carry that 'yes I've got suffragette blood in my veins' candle.  It's not a legacy as such, more of an awareness.  It's such an important topic – strong women – and this was the prompt for me thinking about this book.
I was chatting with my agent about Mariella being a strong character and about writing fiction for girls.  It was through a conversation with him about non-fiction, that we came up with the idea of making a non-fiction book with strong girl characters.  I hadn't thought of a non-fiction book before.
Whether I had the surname or not, I think I would have been interested in books that empower girls.  It's important for girls to see inspirational, strong characters (and boys too).
How Did You Decide On The Women and Girls To Include In Your Book?
I tried to cover women from all walks of life.  I wanted to make the book varied so there's an explorer, civil rights activist, a scientist etc.  I tried to pick women from different parts of the world with different lives and to give the book a broad scope.
Have You Had Any Hurdles In Your Career/Work?
Maybe not hurdles for me as such as I think the publishing industry has a lot of women.  I think there is a 'hurdle' in that there seems to be a firm line between books being marketed for boys and marketed for girls.
Girl books are about feelings, emotions, friendships, fluffy things.  Boys books are about farts, toenails, grubby adventures.  Both types are really good but there just seems to be a 'boys will like this' and 'girls will like this' and I think both can read those books.
The thinking behind Mariella is that I wanted a girl with attitude, mad adventures, who does crazy things and is a strong girl character.  That's the type of book I'm not being asked to illustrate.
Tell Us About Your Confidence?
I suppose when I look back, I think, why did I think that, why didn't I put myself forward for that?  The whole author/illustrator thing, I think I kind of sat on the writing I had done as I didn't have the confidence to put it out there and the potential of dealing with people not liking it.  It's a hard thing to get over.  There have been times when I have been so worried about things that I haven't done anything about it.  Really, really silly.
You get older and you learn through trial and error.  In recent years, my attitude has changed to, 'well you've just got to put it out there and see what happens.'  You need a bit of self-belief to put yourself out there and try new things.
What Would You Have Told Your Younger Self?
Probably to stop talking yourself out of doing things and to put more stuff out there.  Don't send an idea out there and sit around; I needed to be more pro-active.  I shouldn't have waited around as much as I did!  I should have knocked on more doors.  I suppose I would have told myself to have the confidence to put my work out there and shout a bit more about it.
What's The Biggest Challenge In Your Career That You've Had To Overcome?
Probably the point in my career where I was illustrating for other people but it felt like I wasn't doing the projects that I had dreamed of doing.  There was a stage where I was asked to do the same type of work all the time.  I was also working in schools and this could have quite easily taken over.  It would have been very fulfilling but it wasn't what I was meant to do.
There was also the danger of getting so tied up in making a living that you forget your dreams.  I'd much rather earn less and do what I dream of.