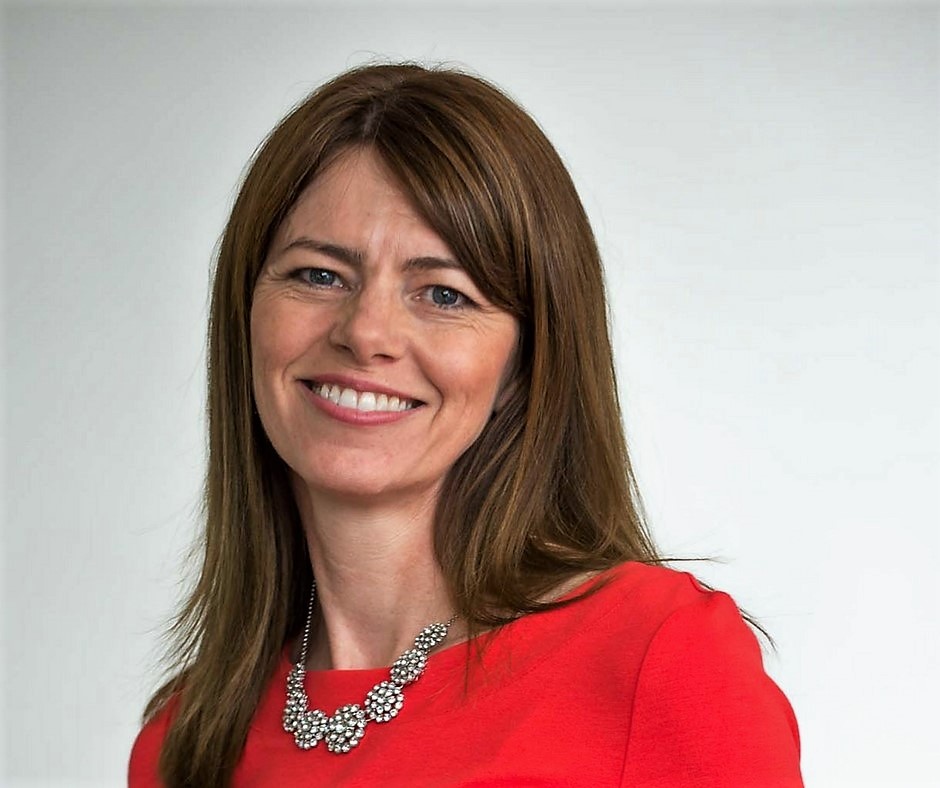 Interview with Hayley Tatum, Senior Vice President – People, Asda.
From The Tills At Tesco To The Board Of Asda – Tell Us About Your Career
(I mentioned that I had read that Hayley had started out on the tills at Tesco and was now on the Board of Asda).  I think this happens to quite a lot of people in retail.  For me, it's one of the massive benefits of the retail sector – so much social mobility.  You can join a business at any level and work all the way up to Chief Exec.  There's nothing that says you can't, which I love.
I joined Tesco as it was my local supermarket.  I joined straight after my 'A' levels as I needed some pocket money and 20 years later I was still there.
I worked around the store, volunteering for over-time and by doing this I worked across every department possible. Within a year, I knew pretty much how to do most jobs in the shop at that time which came in handy when Tesco were opening a store nearby.  I found it really easy to interview people and so that's really how I fell into HR. I just carried on growing from there.  I became a Wage Clerk, a Trainer, Personnel Manager, had my own store etc.
And I Would Think That Makes You Approachable?
I hope so.  By working in so many roles I've gained an appreciation for what other people do and know how hard they are working or if they've had to get up at 4am.  In time you understand the difficulties of a particular shop or department.  I think it earns mutual respect.
When we're training colleagues for example, they might say, 'this could be better you know, you could do it like this…' and they will show you their short cuts.  Suddenly the business gets better and we update our standard processes and training so everyone benefits from their idea.
Unless you are always listening and accessible and creating those environments, you'll never hear the short cuts.
So, You Were Poached in 2011?
I worked my way through the ranks of Tesco.  I didn't always stay in HR which I think is the other pertinent point.  I ran Produce, worked in IT, became a Store Director and I believe this helped me become a broader business leader.
In 2011, I was asked to join Asda.  I have been on the Board as People Director since then and am now going into my 7th year.  I'm still enjoying what I'm doing.
How Do You Juggle Family and Work?
It's a challenge!  Sometimes I get the balance right, others less so.  I live 3 hours from Leeds and chose not to disrupt my children's schools/friends – so commute weekly.
When I first started, I'd drive up on a Sunday night as the Board meetings start early on Monday.  I didn't want the pressure of travelling up on Monday morning if the traffic was bad etc.
I somehow felt I needed to be there at the crack of dawn to prove my commitment which on reflection wasn't really true.
And Has The Work/Life Balance Changed?
I'm more confident in my role now and have a great team around me, so I now travel on Monday morning!  I travel part by train and utilise the time on the train to work so it's not wasted time.  I've become good at squeezing every last minute of productivity from my diary.
My daughter is now 18 and my son is 13.  They're as busy as I am.
Most of the time, the balance works well and I hope I'm providing a strong work ethic for them to follow.  Of course there are days when one of them is ill or needs help with schoolwork and I feel a long way away.  Like most people, there are days when working as I do feels a good choice and others not so much.
You Were Ill Recently – How Did That Change You?
I had breast cancer so took 6 months off, returning to work in January this year.  I think again that naturally does change you.  It has changed me in 2 ways.  It has made me think 'well I'm going to do this to the best of my ability, and if that's not good enough I'll leave or get fired and I won't panic about it.'  And I'm comfortable with that idea now.  Worse things can happen!
Ironically the freedom that gives you is massive.  You just shed a load of anxiety and self-doubt.
The other way I feel I've changed is to work even harder; it has made me want to prove that I'm well again.  I don't want people to not consider me for other projects or opportunities.
What Has Been Your Biggest Challenge At Work?
I believe, in most businesses, it's always about relationships.  You'll have a mix of people around your Board table or your peer group or direct reports.  Some of whom you work really well with and others are more demanding.  They are different to you; their characters and values are different to your own.
Now it's important to have that difference and diversity of thinking.  And sometimes it's easy to become a people pleaser to avoid conflict and agree with everyone even though something may not feel right.  It's always much more difficult to stand on your own and be different to everyone else and say, 'I don't feel like that, or agree with that'.  Those are always the most challenging things to do.
Has Your Confidence Changed?
It has changed as I've got older.  When I was younger I was very ambitious and would say yes to most things I was asked to do which earned me lots of experiences and sponsorship.  I was working really hard; putting myself through a lot of hours and built a reputation for having a go.  At this early stage in my career this gave me brilliant breadth and networks – although I probably didn't realise it at the time!
As I found myself in more senior teams, and quite often I was the only female, I would find that I would start feeling anxious of what people might think of me.  I was in the room with some of these people that I had worked for in the past and suddenly I was around the table with them making decisions.  At times I felt – I shouldn't really be here – imposter syndrome!
I think over time and with more experience, you start to know the ebb and flow of the job – that certainly helps me with my confidence.  If you continue to race up the ranks then the lack of confidence continues for a bit longer as you never get that sense of 'I know what I'm doing'.  You're always the new person in the job.   I've become much more confident the longer I have spent in individual jobs and of course, as jobs get bigger and more complex they take longer to learn anyway.
The irony is that often when building talent within a company, you move people around a lot.  This is great as they learn a lot and a broader understanding of the business but they are always the new person and may be frequently battling with not being sure of themselves as perhaps others in the team.
What Would You Have Told Your Younger Self?
Have faith that it will work out in the end.  You may find yourself working early or late shifts, studying on the side and thinking, why am I doing this?  In the moment it doesn't always make sense.
Take the work seriously not yourself.  At times, whether it was vanity or lack of confidence, I'd be worrying about what others thought about me and in doing so would hold back my opinions, be the last person to speak up in the room.
That feeling does fade, but takes time and encouragement.
You're The Only Female Board Member At Asda In The UK
Currently yes.  We have been 50:50 gender split previously but not at the moment.  I'm delighted that some of my female colleagues have gone to work in other Walmart markets.  It's good they have progressed up and on and trail blaze for other women to follow.  This time around their replacements have been men.   Having said that, if we had promoted women on the board at that time, we would have been doing it for the wrong reason and not because they were the best candidate.  And I know from my own experience and from talking to my female colleagues, we all want to get the job through meritocracy not our gender.
Do I see a future where there are more females round the table at Asda?   Yes, absolutely.  At the moment, that's not the case but I work with very talented men and they treat me fantastically well.  They are thoughtful about the different voice I bring.  Most of our colleagues are female and most of our customers are female so if I haven't spoken up they will actively seek my opinion.